love you like a ferocious, bubbling stone named jack
Friday night Red Blondehead pulled into the chain link, fenced-in parking lot of the Acme Meyers Building, a run-down looking warehouse on the north side of Birmingham. We dodged the rain on our way into the building through a loading dock and saw approximately 10-15 people in the dimly lit space. There was a gated area of Vespas, an army truck, a lime green plastic sofa with chairs, and a parachute tarp covering a foosball table. In the far, bottom left side of the building, there was a small stage set up in front of a dartboard that hung on an exposed brick wall. There were Christmas lights sectoring off the "stage" and a wire rope across the front that dangled lamps emitting a dark yellow light. Close to the stage but slightly hidden on the other side of the parachute tarp was a Volvo station wagon with a canoe or storage bin fastened to the top, which we would later discover belongs to Stone Jack Jones, himself.
Attendance was noticeably sparse, with many of the audience members congregating by the loading dock instead of listening to the music, but those of us who partook of the show couldn't help but feel like we'd been let in on a secret.
LYLAS, sans bass player, performed a quiet set, acknowledging that they'd had to leave a band member or two in Nashville for the night. Our friends described the show in different ways; "twee," "precious," and "original" were some of the comments floating about during and after the set. Comparisons between lead singer Kyle Hamlett and Norway's Sondre Lerche are bound to crop up at some point, especially after LYLAS's new record
Lessons for Lovers
gains some critical attention.
Shortly after LYLAS, fans were treated to a rousing set by Stone Jack Jones, another Nashville band beginning to ride a burgeoning wave of critical approval. Stone Jack Jones' indie, Appalachian folk-style music and image have earned him a creepy mystique that really emanates from his newest record,
Bluefolk
. Onstage, some of this mysteriousness is depleted by Jones' antics; he teases the crowd by introducing every song as "one you're going to hate," throwing his signature black hat out into the crowd, giving away a copy of his wife's new book about a lap dancer in Nashville, and pointing his guitar at the crowd as if it were a gun. Every song is followed by such things; the audience laughed appreciatively, and one girl yelled out, "you're hot! Do you know you're hot?!"
Closing the night was Birmingham's own Ferocious Bubbles, fronted by Pete Szelenbaum, also of Trees with Bells. Despite the relatively late hour, Ferocious Bubbles were, as one friend said, "thick as pea soup." Their set consisted of several songs from their new album
Save Yourself and Run Away
, which is a fine indie-rock record, noisy in places but filled with delicate melodies. We've included a few tracks off of it here to catch you up a bit.
Three very different bands, three great sets; if you had been there, chances are that you would've been hard-pressed to find at least something you didn't like.
Ferocious Bubbles - Airport
Ferocious Bubbles - Skywaves
Scope out the band and buy their record
here
.
Finally, here are a few photos we took Friday night.
*A creepy polaroid we took of Stone Jack Jones. It really captures the mood of the night as well as the "stage" portion of the Acme Meyers Building:
*SJJ and guitarist Luke Schneider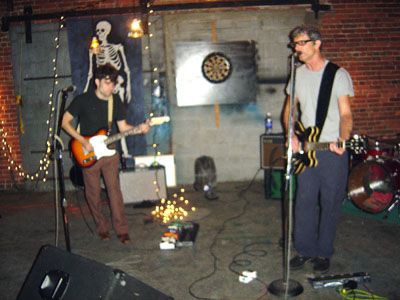 *SJJ and drummer Ben Smythe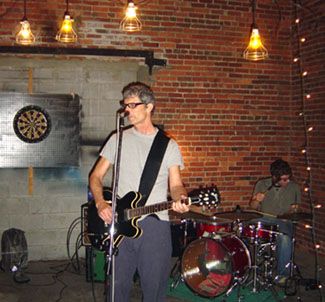 *Kyle Hamlett of LYLAS
*Kyle and Luke Schneider
*Kyle wearing Stone Jack Jones' ominous hat, plus Pete Szelenbaum of Ferocious Bubbles